A BIG thank you to everyone, including our sponsors for your outstanding contribution, support and attendance at the opening day of Bronte's Inaugural Arts Symposium and Exhibition. God has indeed filled our children, youth and seniors with skills for His honour and glory!
The Quilt of Hope (a collection  of youth artwork) remains on display in the lower hall at Bronte Church.  It  features artworks from youth across Halton, along with Hannah, Paz, Jaiden, Gabrielle.  We invite participation by donation to support this youth led initiative.  All proceeds will benefit Ukrainian families transitioning to Halton region. Please encourage our youth in their community service work. Thank you for your support.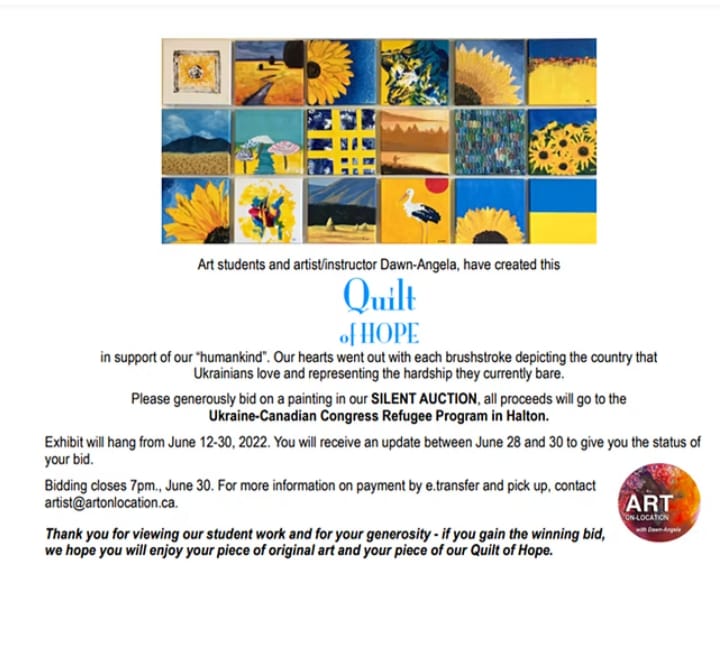 I've invited you to fill out a form:
Bronte Youth Forum Survey
Hello Bronte Youth!

We want to hear from you and need your help via this survey. The purpose of this short survey is to assist the Bronte SDA Youth Forum in its youth ministry planning. As a member or affiliate of the Bronte Church, your participation is extremely important.

Your participation in this survey is voluntary. You may choose not to participate. If you decide not to participate in this survey, you may ignore the link at any time.

The process involves filling out this response form that will take approximately 7-10 minutes. Your responses will be confidential, and we do not collect identifying information such as your name, email address or IP address.

The survey questions will be about your experience over the last 12 months as an individual of faith, and seek to give us an understanding of the areas that are important to you.

The results of this survey will be used for and in the context of planning and developing ministry plans and initiatives in your interest.

Bronte Youth Ministry
Volunteer Opportunities
We are looking for a few brave individuals to help us develop Bronte's youth website. Here's a brief list of what we need:
Web Planner: an idea for a domain name and website plan (ie. what do you think should be on it)
Web Hosting Expert: creating web hosting space, attaching domain name to web hosting space, creating database, uploading WordPress files and installing it.

Web Designer: basic knowledge of WordPress (visual "what you see is what you get" interface)

Art Designer: basic knowledge of Graphical Design (cropping, grabbing images from royalty free content providers and applying them on the website)
Contact Bojan at bojanbublicATgmailDotcom for
more details or to get started.
We want to hear from you.

 Complete the survey on our page so we can use your ideas and feedback to plan events and programs that will be enriching and a blessing to you! Also, email us at

bronteyouth@gmail.com

for your personal invitation to join our WhattsApp group.
Thanks to all of you for your contribution to the Bronte Youth Forum!
Success and blessings, always!
Bronte Youth Forum
Anyone who does not provide for their relatives, and especially for their own household, has denied the faith and is worse than an unbeliever. 1 Timothy 5:8